How Olympic Medalist and PlusCBD Brand Ambassador Nelson Vails Keeps Cycling
Feb 25, 2021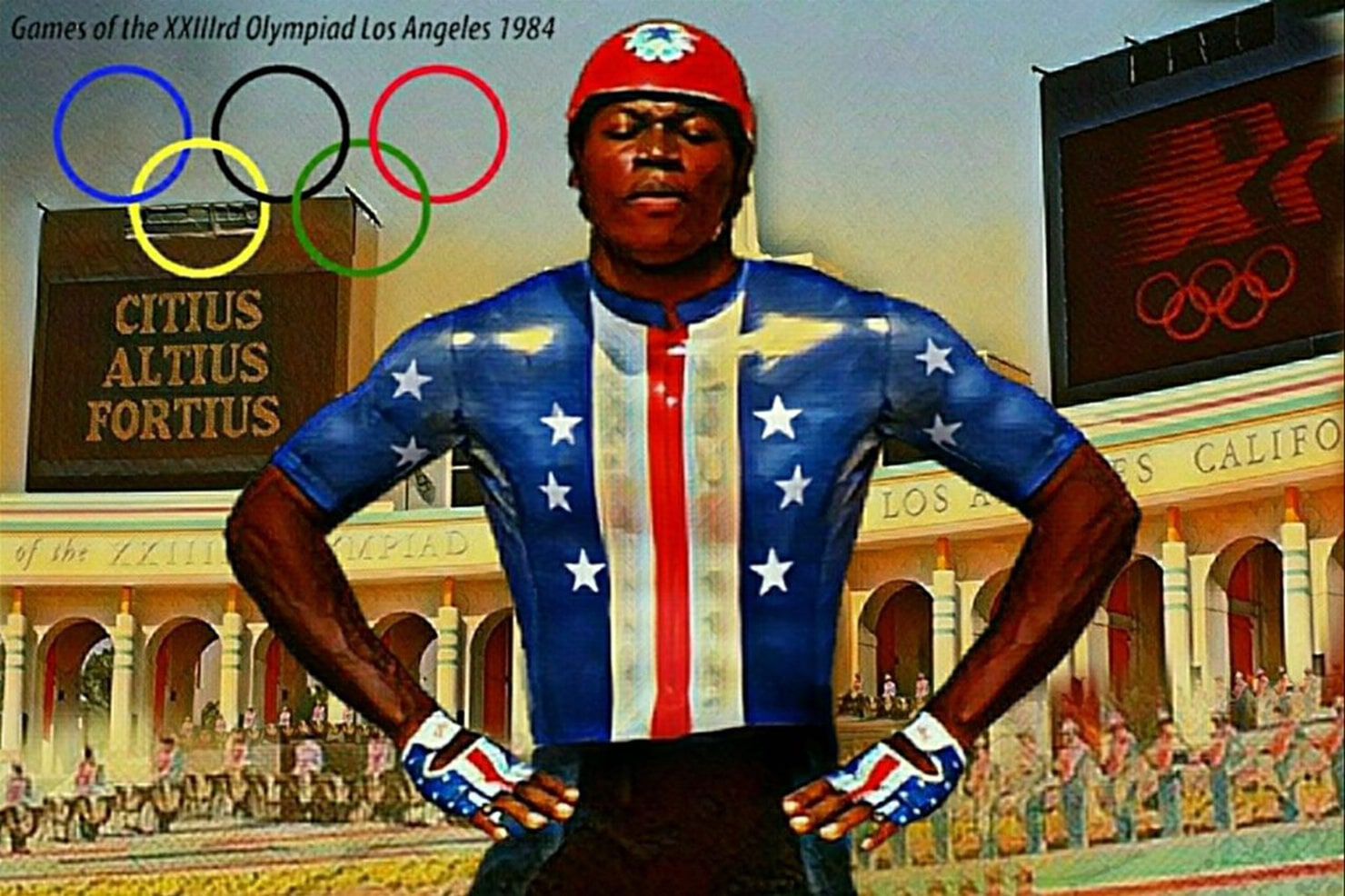 It feels second nature: hopping on his trusty set of wheels, leaning into his grip on the handlebars, and stepping into each pedal stroke as the excitement for the ride ahead already begins to build.

On a sunny day at the 1984 Summer Olympics in Los Angeles, Nelson Vails went through these same motions as he prepared for the Men's Cycling Match Sprint Final. The outcome? Nelson made history as the first African American cyclist to win an Olympic medal.

30+ years later and about 100 miles south of the site of his Olympic win, Nelson is enjoying retirement in San Diego and still loves cycling as much as ever. But, these days, this Cycling Hall of Famer isn't afraid to admit his maturing body needs extra help recovering from the stress and strain of cycling. That's how he came to discover PlusCBD and began using hemp-derived CBD in his post-ride recovery routine.

Nelson's story is inspiring, his passion for cycling is palpable, and his joy for life is contagious. From being a bike messenger in Harlem to an accomplished professional cyclist with a career spanning decades and continents, Nelson lives to be outside and having fun and he actively encourages others to do the same.

At CV Sciences, it's our pleasure and privilege to announce Nelson Vails as our newest PlusCBD Brand Ambassador.
Shop Nelson's Favorite Products:
About Nelson "The Cheetah" Vails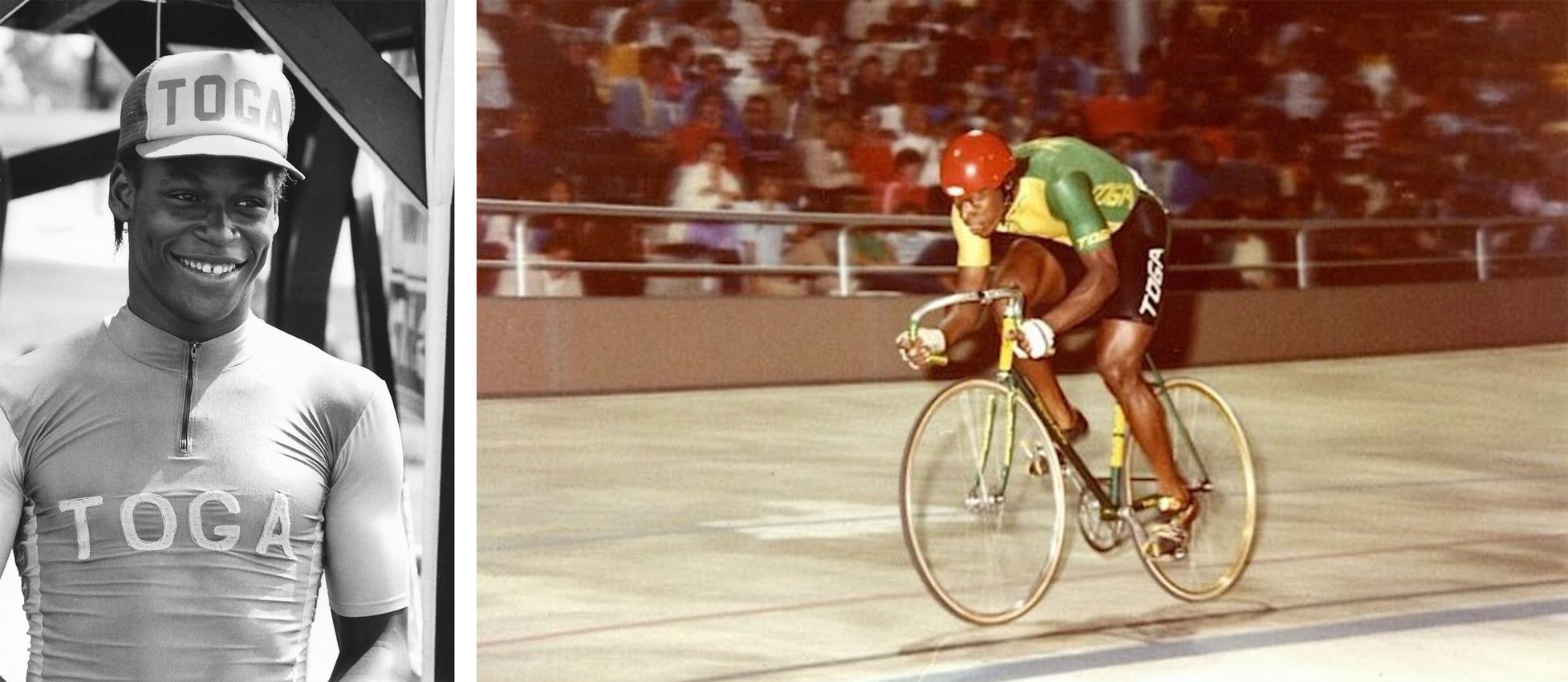 Born the youngest son of 11 children in Harlem, Nelson fell in love with the sport of cycling early on and put in the hard work to perfect his craft but still had fun while he was at it. As shown in "Cheetah: The Nelson Vails Story", a documentary about his life, Nelson was the adventuresome leader among his friends growing up. He started biking around Central Park and realized he was good at it – really good.

Nelson went on to work as a bike messenger in New York City, an incredibly tough job on unforgiving streets, and delivered packages better than anyone else. In a fitting callback and moment of cinematic glory after his Olympic win, he made a cameo in the opening race sequence of "Quicksilver", the infamous bike messenger movie starring Kevin Bacon. As Nelson said, "riding in the streets of NYC built my confidence and my awareness."

Nelson soon began winning local championships, then state championships. It wasn't long until the U.S. Olympic team invited him to Colorado Springs to train full-time, so he quit his messenger job and made the leap to professional cycling. It's hard to imagine the dedication it takes to train at the Olympic level – but Nelson saw all of his hard work as "part of the plan." After taking first place in the individual sprint at the 1983 Pan American Games, Nelson set his eyes on the Olympics.

Hosted by the City of Los Angeles, the 1984 Summer Olympics were boycotted by the Soviet Union and 13 other Eastern European countries. Because of the boycott, the International Olympic Committee allowed participating countries to send two delegates (instead of just one) to compete in each sporting event. As fate would have it, Nelson and Mark Gorski, his close friend and training partner, would find themselves meeting head-to-head in the final race for the Olympic gold.

The rest, as they say, is history.

To get to know our newest ambassador, we invite you to hear Nelson's story in his own words as shared in an interview with our team.
One-on-One with Nelson Vails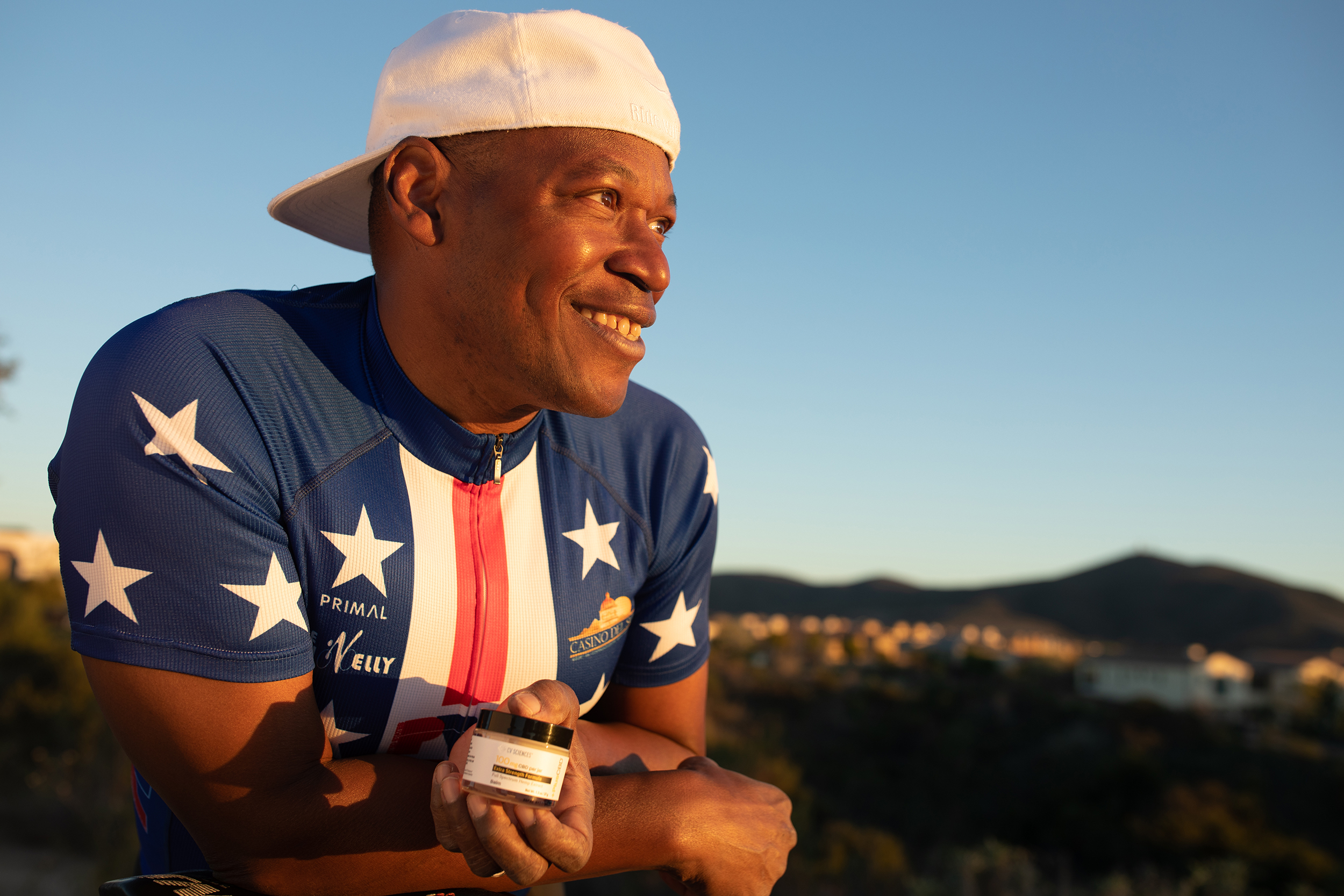 When you were little, what did you want to be when you grew up?
Where I grew up, all the kids had bicycles, and riding a bike was a talent I recognized in myself. So, throughout those early years and right out of high school, I knew I was going to be a professional cyclist.
Where did you grow up and what it was like going back home as a rising star in the cycling world?
I grew up in Harlem, New York City. I was the eleventh child and my family lived in project housing. There were many kids my age in the neighborhood and we grew up together – it was a great childhood. That's probably what led me to success. I wasn't good academically, but as I progressed in my cycling career, I knew I had support from everyone at home.
Can you describe your path from amateur cycling to the professional level?
When I was young, I was part of local bicycle clubs. That's how it starts. A local bicycle club turns into a local bicycle team that turns into a regional team that eventually becomes a national team. I started on the path toward professional cycling by learning how to ride on a cycling track with my local team, Toga Bike Shops. Lenny Preheim was one of the owners and coaches of the team and he introduced me to the Kissena Velodrome in Queens, New York. A velodrome is a banked track and, as anyone who rides it knows, it's scary. But learning to ride a bank track launched me into being a state champion in the sprints. Then I was able to race in a place in Pennsylvania called Trexlertown, a well-known venue for cyclist development. Kids from around the world came to participate in Tuesday and Friday night rides in this small town and I was one of those kids.
When you say development, what kinds of things were you working on? What did your life look like while training?
You had kids of all ages training in Trexlertown. Every individual had a set workout schedule to follow at the direction of the coaches. We all went on bike rides, did a little weightlifting, and we all did calisthenics. We were doing yoga before yoga was popular. Everybody put in a team effort and that was the most important thing I took from the coaching staff. Everyone was part of a team, but you were still treated as an individual to succeed.
What was it like for you at your first national event?
It was a great opportunity and I remember it very vividly. We traveled from New York City to San Diego – and I didn't know that I'd be living in San Diego now. It was my first time on a national stage and I was up against the best of the best from around the country. I competed and won my first two rides. I didn't know what I was doing; I was just fast. When my coaches yelled, "Go!" – I would just go. But after the first two rounds, I think the more experienced riders got hip to my game and they were able to overtake me and win. Eventually, I was eliminated from that national competition. But that's when I was invited to train with the national team at the Olympic Training Center in Colorado Springs, Colorado in the winter of 1980.
What was your family's response to you joining the Olympic team and moving to Colorado to follow your dream?
Well, this is going to be an interesting answer. As a member of the Vails family and the baby of 10, I was always among achievers. We aimed to achieve goals in life. So, coming from Harlem and achieving all that I had in cycling before going to Olympics, I think it was expected of me. People would say things like, "Aw, Nelson Vails made the Olympic team? You know he's going to win a medal. He's going to get something." And it was the same for kids in swimming, track and field, and other sports. It was so hard to make the Olympic team, it made it seem easy to win a medal.
What were the first years training with the Olympic team like?
In 1981, I was not selected to go to Worlds in Czechoslovakia. I went to the selection camp, but I was still too young. So, that year, they sent someone else, which was quite upsetting to me as a youth growing in the sport. But now I realize that the coaches knew what they were doing. Not being selected for Worlds made me hungrier. I knew that wasn't going to happen again – and it did not happen again. I was on every Worlds team from 1982 through the end of my professional career. 1982 was my first time traveling as a national team member to the World Championships. It was there in Leicester, England, that I was introduced to the world stage as this young Black kid on the U.S. National Team. "Who is he?" they said, "He's fast…not smart yet, but fast."
What was your experience as a Black cyclist at the international level?
During my youth and during that time in the early '80s, I didn't know color. I was always taught to respect others and their cultural beliefs. I learned cultural awareness from my parents. So, I did not see myself as being "the only" African American at cycling competitions until after I retired. For me, I was one of everyone else on the world stage.
What were the physical demands of getting ready for Worlds? Was all your waking time focused on training?
Training for Worlds was business as usual, meaning I had a plan for every day of the week – including nap time and a rest day. Every day, I'd follow my training routine, and my opponents were doing the same thing. There was no time to make excuses unless I got sick. If I was sick, I was sick and I couldn't make up the lost training time. I'd just move on the next day. But even on those cold and snowy road rides, I knew my opponents were doing the same thing. During the hard workouts when I felt tired and it looked like it was going to rain but I still had to get out there and train, I knew my opponents were doing the same thing. That was the mentality we had. And we would see the results of our training on the world stage, where winning or losing could come down to a photo finish.
Before your Olympic win, were there any other big events that stood out in your career?
My Pan Am medal was a major achievement for me. After being introduced at Worlds, my coaches taught me how to use my "magic wand" – that is, how to be a better cyclist. Being a young, untrained professional cyclist is like having a brand-new magic wand but not knowing how to pull a rabbit out of a hat yet. From '82 to '83, my coaches taught me how to use my magic wand before sending me to the Pan American Games in 1983, where I took the gold medal. Meanwhile, they sent my teammate, Mark Gorski, to the World Championships. Our coaches strategically split us up and sent us to these two different competitions because we couldn't go to the same event and both win. Little did we know that just a year later, we would meet in the finals at the 1984 Olympics.
Now for the big time: what was it like going to the Olympics?
Everything was well thought out and planned. From the time I left the Olympic Training Center to checking-in at LAX as a member of the U.S. Olympic Team, everything went to plan. What may come as a surprise to people is that my cycling teammates and I didn't go to Opening Ceremonies because cycling events were held the very next day. Opening Ceremonies required a lot of standing, and we had to rest.
How did you feel right before the final race for gold and silver?
The night before the Olympic gold medal race against my teammate, Mark Gorski, was a sleepless night. The two of us and our coaches – we were all friends – went out for a late-night snack because our race was not until 3 pm the next day. We had the chalkboard out and we went over every pedal stroke scenario, going over everything we needed to do to win. But I ended up with a silver medal. I screwed up and got second place at the Olympics. But I still say that it all went to plan. We did what we were supposed to do and, that day, in that race, Mark out-rode me. We were at the same speed, and we knew each other left and right, but he out-rode me. If you watch the video, you can see that he won by wheel lengths.
How did it feel getting up on that podium for your country and having that medal put around your neck?
When celebrating Black History Month now and seeing the pictures, I didn't know then that I was a part of history. So, on the Olympic podium, I mostly felt a great sense of relief that it was over. And get this: two days later, I got on a plane and flew to Pennsylvania to race in the National Championships and then came back to the Olympic venue. I left to compete and win Nationals, then came back for Closing Ceremonies.
You won Nationals days after you won a silver medal at the Olympics?
Yes, and the nice thing was that I brought my medal back to the home track: T-Town. Trexlertown. To bring home my Olympic medal was especially meaningful because this particular racing facility produced so many cycling champions. Their development program was just awesome and that track is still there and still producing champion cyclists.
When did you start thinking about retiring from the professional circuit?
I didn't start thinking about retirement until probably '93, '94. In 91, I got fourth at the Worlds and that sucked. I didn't get a medal. But I kept competing at the international level until '95, then I retired, which was great. Retired on top, I like to say.
In addition to your website and videos that you share online, what have you been doing since retiring?
I'm still active in the cycling community. I host the annual Tour de Palm Springs and other "Ride with Nelly" events around the country – although those events have been impacted by the pandemic, of course. As the first African American to win an Olympic medal in cycling, I have the privilege of speaking at Black History Month events at schools and in communities. But when I'm not traveling for cycling events or speaking engagements, it's fun to be one of the old dudes with a nice bike at the local coffee shop, hanging out. I used to be that pro cyclist, always training – but now, I really enjoy being able to get together with some of my old buddies and go for a bike ride. We're old now, so we all have bellies and ailments, and we're not as strong and fast as we used to be, but we still love being outdoors and on our bikes.
What advice do you have for people who enjoy outdoor activities and are looking to stay fit and healthy? What are some of the secrets that you've learned as someone who has been cycling for decades?
There's no secret. It's about making realistic commitments. Now that I'm retired, I try to get out daily and ride my bike at least around the block, which is 10 miles. Some people go on walks or swim. It's not about making a new year's resolution or starting a fad diet. The key is looking at yourself in the mirror and committing to something simple, then sticking to those commitments and going on to even greater things. So, if your goal is to make your bed every day this week except Sunday and you stick to it, then you've done something. For me, I strive to make something happen instead of waiting for something to happen.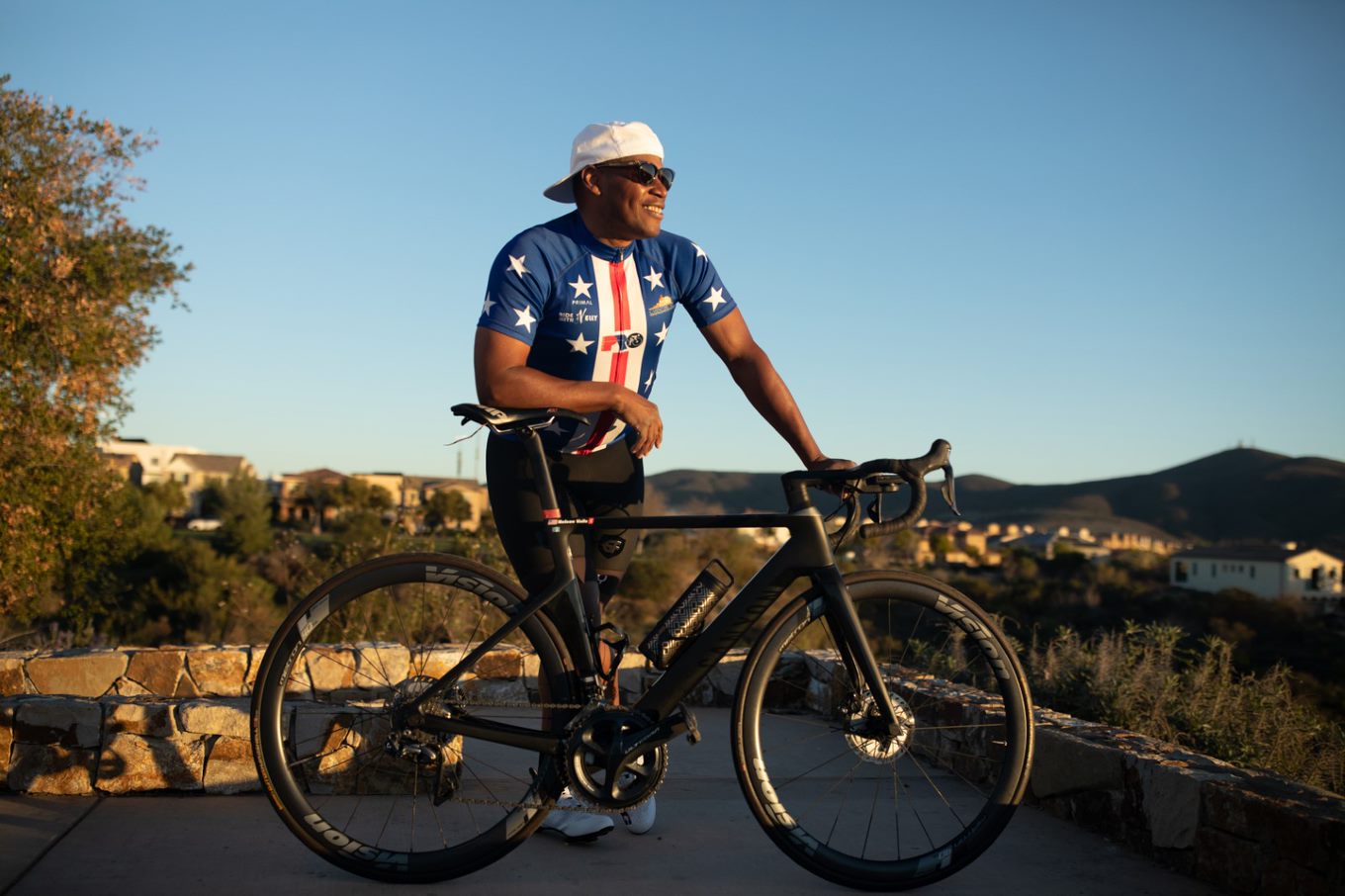 You often talk about the importance of nutrition and recently started sharing your interest in hemp-derived CBD. What got you interested in CBD and what do you think of it?
I first learned about CBD through a friend. As a nutritionist, he recommends products that may help me keep up with cycling. At his suggestion, I tried PlusCBD. I started with the PlusCBD Extra Strength Roll-On, not thinking much of it – but as I started using the roll-on after rides, I thought, "Wow, this stuff is awesome. It works." I have a shoulder injury from a crash many years ago that gets sore after long rides. Now, after a ride, I apply the roll-on to my sore shoulder, rub it in, and forget about it. It makes resting and recovering much more comfortable, so I can focus on being in the moment instead of being down between rides.
Besides the PlusCBD Extra Strength Roll-On, are there any other products you're using to help with recovery?
I'm still experimenting, but the Extra Strength Roll-On, Extra Strength Balm, and Extra Strength Softgels are my favorites. I use the roll-on and PlusCBD Extra Strength Balm after rides and they really hit the spot. My wife and I take the PlusCBD Extra Strength Softgels at bedtime for sleep. I know that when it comes to CBD, everyone is different, so it's all about finding what works for you. I keep a log of what products I'm using and when and how they make me feel, which is helping me figure out what works best for me.
Do you have any final thoughts for other outdoor enthusiasts out there?
I would encourage anyone who enjoys outdoor activities – from walking to watersports – to get out there and do what you love. Don't be discouraged if you're getting older and you can't run as far or jump as high or if you need to take breaks or go more days between being active. On the contrary, I encourage you to be open to trying things like CBD that are safe, plant-based, and available from reputable companies like CV Sciences to help keep you moving. I'm 60-years-old and I'm not the pro athlete I was at the '84 Olympics, but I still love being on my bike. I plan to keep riding for a long time and I'm grateful that I discovered PlusCBD when I did.
THANK YOU, NELSON
- CV Sciences