PlusCBD Product Quality Testing Process
Mar 16, 2021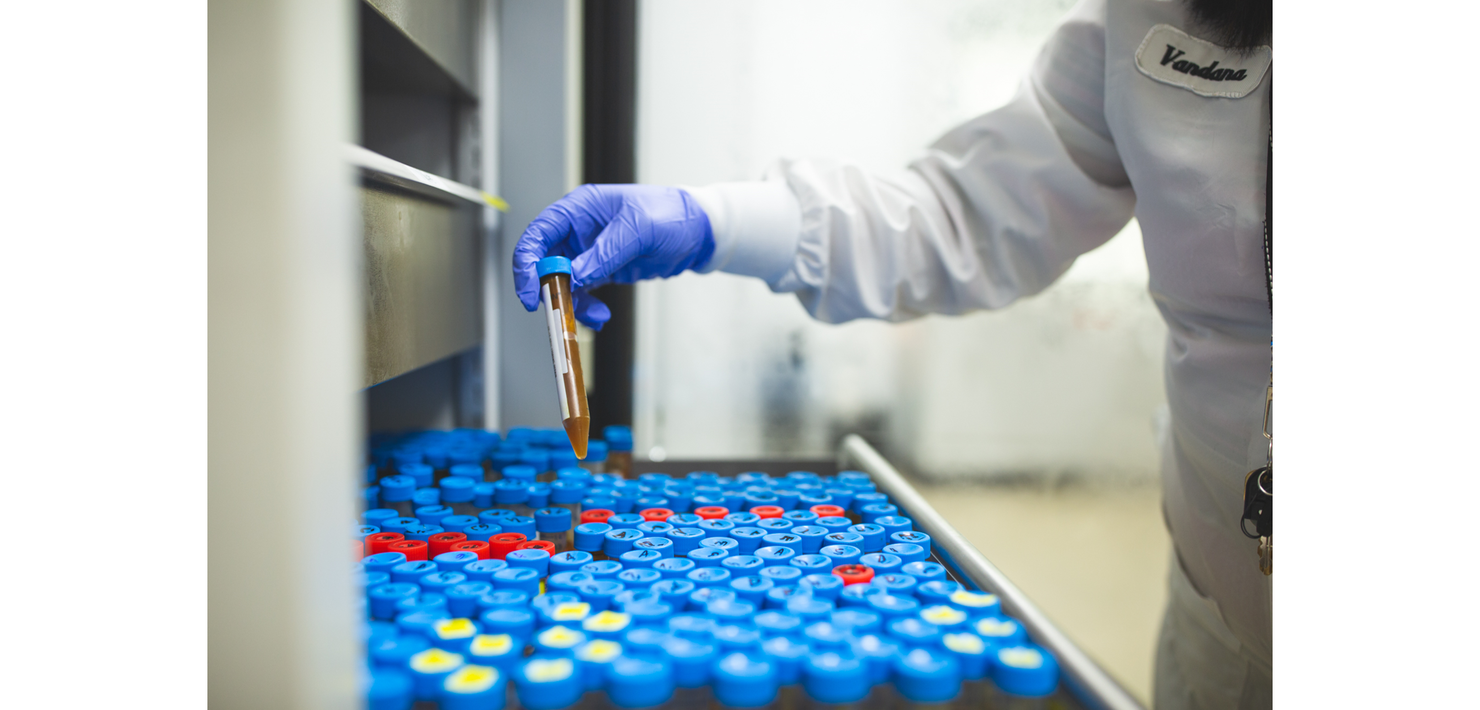 Once grown and harvested by our trusted farmers in Europe, our hemp plants undergo a CO2 extraction process to produce the raw oil extract. This is the thick black paste, rich in cannabidiol (CBD) and cannabidiolic acid (CBDA) that forms the base for all of our products – from oils and balms to gummies and capsules.  
A full-plant hemp extract is complete with minor cannabinoids, terpenes, and the fatty acids that the plant uses as building blocks to make CBD (similar to how humans make our own endocannabinoids). But in order to ensure the highest quality product, everything comes down to rigorous testing – at every stage of the process. 
HPLC Testing
When the raw extract arrives at our manufacturing facility in  San Diego, CA, our qualified Quality Control lab staff immediately begins the first round of testing. Our in-house lab follows validated testing method to quantify cannabinoids using high-performance liquid chromatography (HPLC) system. To determine the cannabinoid content, we use our in-house high-performance liquid chromatography (HPLC) machine.
An HPLC separates the molecules for analysis. Then, a pressurized pump forces a solvent containing the hemp extract through a column filled with a solid adsorbent material. The use of high pressure and very small particles allows for a very fine resolution of molecules. It's a refined technique that's been heavily used for decades in the pharmaceutical industry, for chemical research and medical purposes. The HPLC allows us to determine the concentration of major and minor cannabinoids in our raw extract. 
For this test and others, all of the methods used in the lab are certified by the International Organization for Standardization (ISO), the organization responsible for developing and publishing international standards across various industries.
Our Quality department exists to ensure and enforce our adherence to the highest voluntary standards possible during the testing and manufacturing of our products. The Quality department also maintains our compliance with current Good Manufacturing Practices (cGMP), which entail guidelines that involve all of the paperwork necessary to create standard operating procedures (SOPs) for every aspect of our business - from visitor's policy and shipping and receiving to laboratory practices and testing protocols. Then, a third-party auditor performs a yearly inspection that examines every aspect of quality control and verifies our adherence to the documentation to ensure the safety and consistency of every batch of our product.
The Quality department acts as an independent watchdog inside the company. One sign of a healthy company is a place where the Quality department has all the power to stop production until inspections, tests, and the resulting documentation can be verified. When our raw extract arrives, it goes nowhere until the results come back from the samples sent out for third-party testing at an independent lab.  
GC-MS Machine Testing
This round of tests looks for solvents, pesticides, and heavy metals using a gas chromatography–mass spectrometry (GC-MS) machine. To identify varied substances in a sample, the GC-MS analytical method combines the best features of gas chromatography and mass spectrometry. GC-MS is usually regarded as the gold standard method for forensic substance identification, because it can be used to perform a 100% specific test for the presence of a substance.  
The building blocks of the GC-MS technique are the gas chromatograph and the mass spectrometer. Like the HPLC above, the gas chromatograph uses a thin column to separate the molecules, and allowing them to emerge from the column at different times. Their retention time is recorded and once they leave the column, the mass spectrometer detects their mass and charge by using electrons to break the molecules apart. These two machines complement each other because the mass spectrometer only works on very pure samples – while the gas chromatograph separates better than it identifies. Together, they can accurately identify and quantify very miniscule amounts of a compound. That's especially important for heavy metals, like lead and cadmium, where any amount is unhealthy. 
Microbial Techniques
Microbials represent the last important part of third-party testing. Nutritional supplements can be contaminated with a range of mold, yeast, viruses, and bacteria. When it comes to pathogenic microorganisms—they are either not allowed at all in products or they are limited to a specific number of cells per gram of food. The third-party lab applies conventional microbiological techniques, such as using plates with growth medium to test for the presence of a variety of microorganisms. With a plant like hemp that can experience moist growing conditions, it's vitally important to test for microbiological contamination.
When the third-party test results come back declaring the raw extract to be free of microbial contamination, heavy metals, pesticides, and solvents, the Quality department finally clears it to be used by production. And then, we keep testing at every stage of the manufacturing process. And then, we keep testing at every stage of the manufacturing process. 
Further Testing
If the hemp extract is used to produce our Raw blend of hemp oil with CBD and CBDA, it's tested again. If that raw extract is gently heated to decarboxylate all of the CBDA into CBD, it's tested again. If that Green oil (Decarboxyated hemp oil) is used to make a topical product or if we put it into our capsules, it's tested again. If the Green oil is distilled to make the more potent Gold hemp oil, it's tested again. If the Green oil is distilled to make the more potent Extra Strength hemp oil, it's tested again. Overall, for products like our Extra Strength Formula softgels or capsules to finally leave our warehouse doors after being cleared by Quality, it's been tested a half-dozen times using the HPLC and GC-MS methods. 
We're often asked about the variations between the types of oil in terms of minor cannabinoids. Because of the distillation process, it's our Extra Strength Formula that tends to have the most of the other cannabinoids like CBG, CBC, and THC. But because we're working with a plant, we standardize only for the CBD content and so the minor cannabinoids may exhibit some natural variation between the batches. 
The same is true for terpenes. While beta-caryophyllene (a CB2 receptor agonist), tends to show up the most in our agricultural hemp, we're not controlling for terpene content and do not test every batch for it. While the terpenes produced by the plant are dependent on an array of variables, we use our extraction techniques to extract as many of them as possible for inclusion in the final product. 
CV Sciences is committed to the safety, compliance, and efficacy of all of our products, which is why our CBD-rich hemp extracts undergo extensive quality testing throughout every stage of the manufacturing process. Our internal lab team is comprised of professional scientists with decades of pharmaceutical experience who adhere to strict testing methods and stay at the cutting edge of chemical analysis. We stand firmly behind our processes, our methodologies and the documentation to prove them, in order to provide consumers with the high-quality and safe hemp CBD products they can trust.