CBD Gummies - Sleep Gummies for Sale
CBD Gummies - CBD with THC Gummies for Sale
CBD Gummies - Calm Gummies for Sale
CBD Gummies - Extra Strength CBD Gummies for Sale
CBD Gummies - THC Free CBD Gummies for Sale
CBD Gummies - CBD Gummy Bundles for Sale
THE GOLDEN HOUR BUNDLE
2.5mg THC | 25 mg CBD Per Serving
Price reduced from

$109.98

to
20% Off
Now:

Starting at

$87.98
What do CBD Gummies do?
CBD gummies help your overall health in a myriad of ways by balancing your endocannabinoid system or ECS. Basically, CBD goes to receptors in your body where you need it most and can assist with stress response, exercise recovery, occasional inflammation, and greater feelings of wellness.*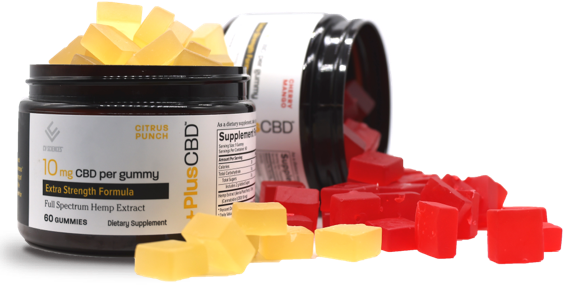 Our CBD Gummies are:
• Organic
• Made in the USA
• Always Third-Party Tested
• Pesticide-Free
• Soy-Free
• Vegan
• Non-GMO
• Gluten-Free
What's in our CBD Gummies?
Infused with our potent hemp extract, +PlusCBD gummies contain much more than just CBD. They also have an array of minor cannabinoids, terpenes, and fatty acids used by the body to balance health. Alongside our top-quality hemp extract, we select a careful curation of choice ingredients to make our delicious award-winning CBD gummies.
What kind of CBD Gummies do we offer?
Extra Strength Formula Gummies
Our +PlusCBD Extra Strength CBD gummies are perfect for anyone looking for an ideal serving of CBD to start supporting their everyday health. Each delicious gummy comes packed with 10 mg of CBD per serving, plus a full spectrum of hemp's many beneficial compounds. Available in either cherry mango or citrus punch.
Reserve Collection: CBD with THC Gummies
Looking for an extra boost of CBD and beneficial levels of THC? Reserve Collection gummies are what you need. These CBD edibles include 25 mg of CBD, terpenes, minor cannabinoids, fatty acids, and finally, 2.5 mg of THC. This optimal CBD to THC ratio helps elicit strong feelings of calm, comfort, and relief when intense support is needed.*
Wellness Blends Gummies
Doctor formulated +PlusCBD Wellness Blends gummies merge our award-winning hemp extract with powerful, clinically researched active ingredients, plus 10 mg of CBD to help effectively address daily sleeplessness and stress.* Available in Sleep and Calm.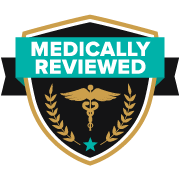 CBD Gummies FAQs
Below are some common questions we hear frequently asked, regarding CBD Gummies.
Yes, because our CBD oil gummies are derived from hemp! Thanks to the signing of the 2018 Farm Bill, hemp-derived CBD products are legal on a federal level. Hemp can be cultivated, processed into products like CBD gummies, and sold across the United States if adhering to all regulations. All our CBD edibles meet these requirements by having THC levels at or below 0.3%, adhering to shared state-federal regulations, and grown by a licensed grower.
The benefits of taking CBD gummies are obtaining the therapeutic benefits that CBD provides to your endocannabinoid system in an edible format that allows for a precise CBD dosage and tasty delivery option. Your endocannabinoid system is a signaling system that your brain and body use to maintain balance and homeostasis. CBD helps to balance the endocannabinoid system and to bring balance and health across the body. It improves your endocannabinoid tone, and this is part of the way CBD helps with other health challenges.
The short answer is yes. However, natural products are not intended to treat, diagnose, mitigate diseases or disease symptoms. That being said, CBD was researched and tested in an open label pilot trial showing that it is effective for both anxiety and sleep. We make absolutely no medical claims for CBD-rich hemp extracts. These products are regulated as dietary supplements and are not intended to diagnose, treat, cure, or prevent any disease.
We're glad you asked.
Because besides the cannabinoids, terpenes and fatty acids found in any well-made hemp extract, we select a careful curation of choice ingredients to make a CBD gummy that wins industry awards:
Organic tapioca syrup - A natural liquid sweetener made from tapioca starch
Organic cane sugar - Produced from this plant harvested since ancient times, cane sugar is known as the best substitute for the ubiquitous white sugar because of its eco-friendliness and nutrition.
Organic seaweed extract - Rich in fiber, seaweeds are harvested for their complex sugars and gelatinous hydrocolloids and have been a staple food throughout human history.
Citric Acid - A weak organic acid that is widely used as a preservative because of its safety and natural sourcing and considered GRAS by the FDA.
Trisodium Citrate - Known as sour salt, it's a mild basic used as a buffer with citric acid as a preservative.
Natural colors and flavors - coloring and flavoring sourced from natural plants
There's no one-size-fits-all answer to this question, as the amount of CBD gummies you should eat depends on a variety of factors. However, we'd generally recommend starting with one or two gummies and seeing how you feel after an hour or so. If you don't feel any effects, you can always eat more.

Ultimately, everyone's endocannabinoid system is different, and with some use, you will find a CBD sweet spot for the number of gummies and times of day that works best for you.
Our CBD oil comes from trusted sources with a proven record of quality. Proudly manufactured in the U.S. with Kentucky and Netherlands grown hemp by farmers with a long unbroken history going back centuries of cultivating the highest quality hemp on their fertile soil.

Grown using only water, earth, and sunlight, the plants are cared for by our farmer partners who have been doing this for a long time. Once harvested, the plants undergo extraction by CO2 - a method chosen for its safety, environmental friendliness, and CO2's ability to pull out the wide array of bioactive molecules available in the hemp plant.
No, CBD gummies will not get you high. CBD is a non-psychoactive cannabinoid that does not produce the "high" associated with marijuana. Instead, CBD interacts with the body's endocannabinoid system to provide relief from conditions such as anxiety, pain, and inflammation.

Our CBD gummies do contain trace amounts of THC, but not enough to get you high. If you have an upcoming drug test though, CBD does stay in your system for two to five days.
Although some manufacturers refer to their CBD gummies as hemp gummies, they are wrong. In the rest of the industry, there are gummies made from cold-pressed hemp seed oil. They're rich in fatty acids and are a tasty snack. But if they contain CBD, they are CBD gummies. The hemp extract is the ingredient that goes into the CBD gummies to make them special. For our products, the hemp extract comes from clean and efficient CO2 extraction methods that pull the healthiest components from hemp, including CBD. That hemp extract is then used to formulate our delicious CBD gummies.