What are CBD Gummies?
CBD gummies are a form of cannabidiol edibles. Besides all of the cannabinoids (CBD) that make hemp special, besides the terpenes that create their smell and modulate how the cannabinoids work, CBD hemp infused gummies are a great way to consume a premeasured serving of CBD.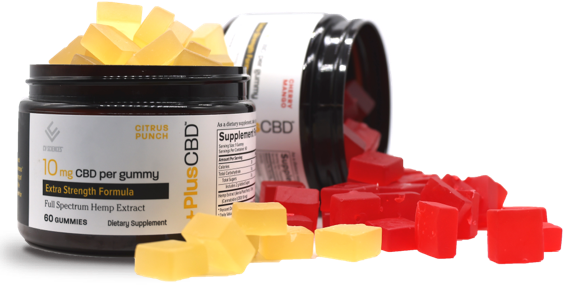 Our CBD Gummies are:
• Organic
• Made in the USA
• EU certified seeds
• Always Third-Party Tested
• No Pesticides
• Full Spectrum Extract
• 100% Vegetarian
• Non-GMO
• Gluten Free
What's in our CBD Gummies?
Infused with our potent Gold Formula extract, these gummies contain much more than CBD. Here is what is in our hemp infused CBD gummies:
• CBD-rich, Full Spectrum Hemp Extract
• No artificial sweeteners
• Organic Tapioca Syrup
• Organic Cane Sugar
• Organic Seaweed Extract
• Citric Acid
• Trisodium Citrate
• Natural Colors & Flavors from Plants
Our CBD gummies come in two flavors: Cherry Mango and Citrus Punch. They both taste great - but for vegans, they should steer away from the carmine that gives the color to our Cherry Mango CBD gummies.
With our CBD gummies you know exactly how much you're getting in every gummy. The great taste is just and added bonus.
By popular demand, our cannabidiol (CBD) Gummies are available in our Extra Strength Formula, which is a concentrated form of our Original Formula, and we distill 10 kilograms of our regular extract to produce just 3 kilograms of our concentrated Extra Strength Formula. This is ideal for people who realize that they need higher levels of CBD every day for their health.
CBD Gummies FAQs
Below are some common questions we hear frequently asked, regarding CBD Gummies.
CBD gummies are preferred over other ingestible for users who want to know exactly how much CBD they are taking. Our CBD gummies are available in 5 and 10 milligrams in each serving and you know exactly how much you're getting in every gummy. As an added bonus, they taste great
Yes, CBD gummies might be the most appropriate for seniors.

More fun than another capsule to swallow, less messy than an oil - we often hear from our senior customers that this is their favorite way to get their daily dose of CBD-rich hemp extracts.
We make absolutely no medical claims for CBD-rich hemp extracts. These products are regulated as dietary supplements and are not intended to diagnose, treat, cure, or prevent any disease.
We have found
CBD
and the other ingredients in a well-made full spectrum hemp extract to be helpful in enhancing health in healthy people and to restore balance and homeostasis to the human system. This dovetails with the long use of hemp in human history for health. While the scientific research that has been done on CBD is immense, more clinical work needs to be done.
We make no medical claims for these products, and you shouldn't deal with any company that does.
We're glad you asked.
Because besides the cannabinoids, terpenes and fatty acids found in any well-made hemp extract, we select a careful curation of choice ingredients to make a CBD gummy that wins industry awards:
Organic tapioca syrup - A natural liquid sweetener made from tapioca starch
Organic cane sugar - Produced from this plant harvested since ancient times, cane sugar is known as the best substitute for the ubiquitous white sugar because of its eco-friendliness and nutrition.
Organic seaweed extract - Rich in fiber, seaweeds are harvested for their complex sugars and gelatinous hydrocolloids and have been a staple food throughout human history.
Citric Acid - A weak organic acid that is widely used as a preservative because of its safety and natural sourcing and considered GRAS by the FDA.
Trisodium Citrate - Known as sour salt, it's a mild basic used as a buffer with citric acid as a preservative.
Natural colors and flavors - coloring and flavoring sourced from natural plants
Luckily, for most people, it doesn't seem to matter much if they use CBD with or without a meal. Even though they're fatty lipids, CBD and the other cannabinoids seem to absorb pretty well into the body. Usually, one or two gummies is enough for most people, and they don't need to plan their CBD ingestion around their mealtimes.

That being said, the best evidence for improving bioavailability is to consume CBD and the other cannabinoids with fat or oil. It helps slow things down and allows more time for absorption. So while you don't have to, the best time to enjoy your CBD Gummies is right after a meal.
Our CBD oil comes from trusted sources with a proven record of quality. The hemp in PlusCBD Oil is grown from EU-certified hemp seeds by farmers with a long unbroken history going back centuries of cultivating the highest quality hemp on their fertile soil.

Grown using only water, earth, and sunlight, the plants are cared for by our farmer partners who have been doing this for a long time. Once harvested, the plants undergo extraction by CO2 - a method chosen for its safety, environmental friendliness, and CO2's ability to pull out the wide array of bioactive molecules available in the hemp plant.